First of all : Sorry for the bad english Translation..but Google is a mess with long Text !
Gestern ging ein Traum von mir in Erfül­lung. Ich habe Diana Gabal­don tat­säch­lich gese­hen und sog­ar drei Sätze mit Ihr gesprochen.Diana war auf Pro­mo­tion-Tour für die Neuüber­set­zung von Out­lander (auf deusch "Feuer und Stein" ) und hielt eine Lesung in Dort­mund mit anschließen­der Signierstunde.Sie sprach fast eine Stunde und las dann noch in englisch aus dem neuen Buch vor, sowie eine Pas­sage von Ellen und Bri­an Fras­er.
Yes­ter­day a dream of mine came true. I have actu­al­ly seen Diana Gabal­don and even talked with her three sen­tences. Diana was on a pro­mo­tion­al tour for the new trans­la­tion of Out­lander (on ger­man "Fire and Stone") and gave a read­ing in Dort­mund, fol­lowed by book sign­ing. She spoke for almost an hour and then re-read in eng­lish from the new book, as well as a pas­sage of Ellen and Bri­an Fras­er.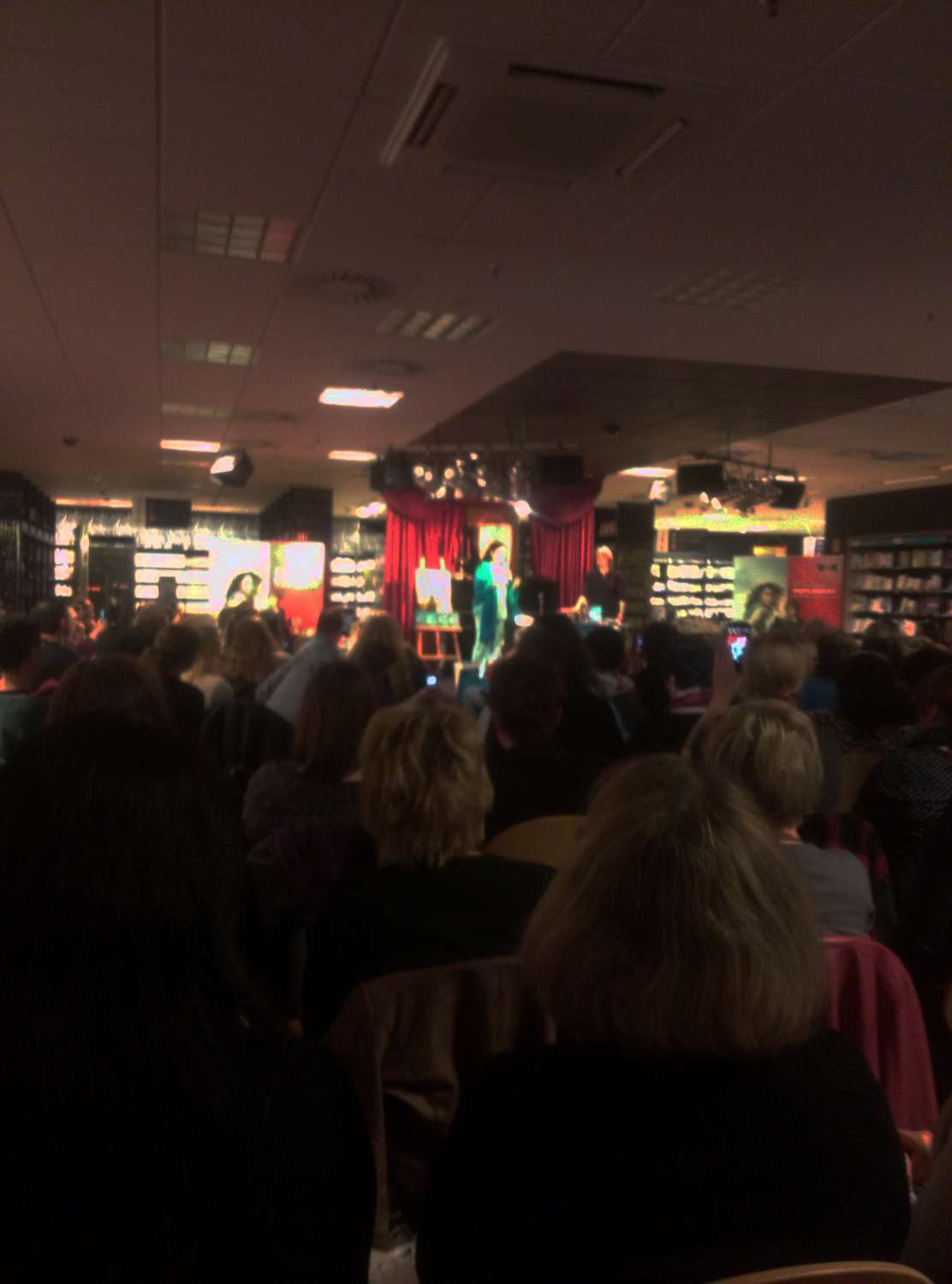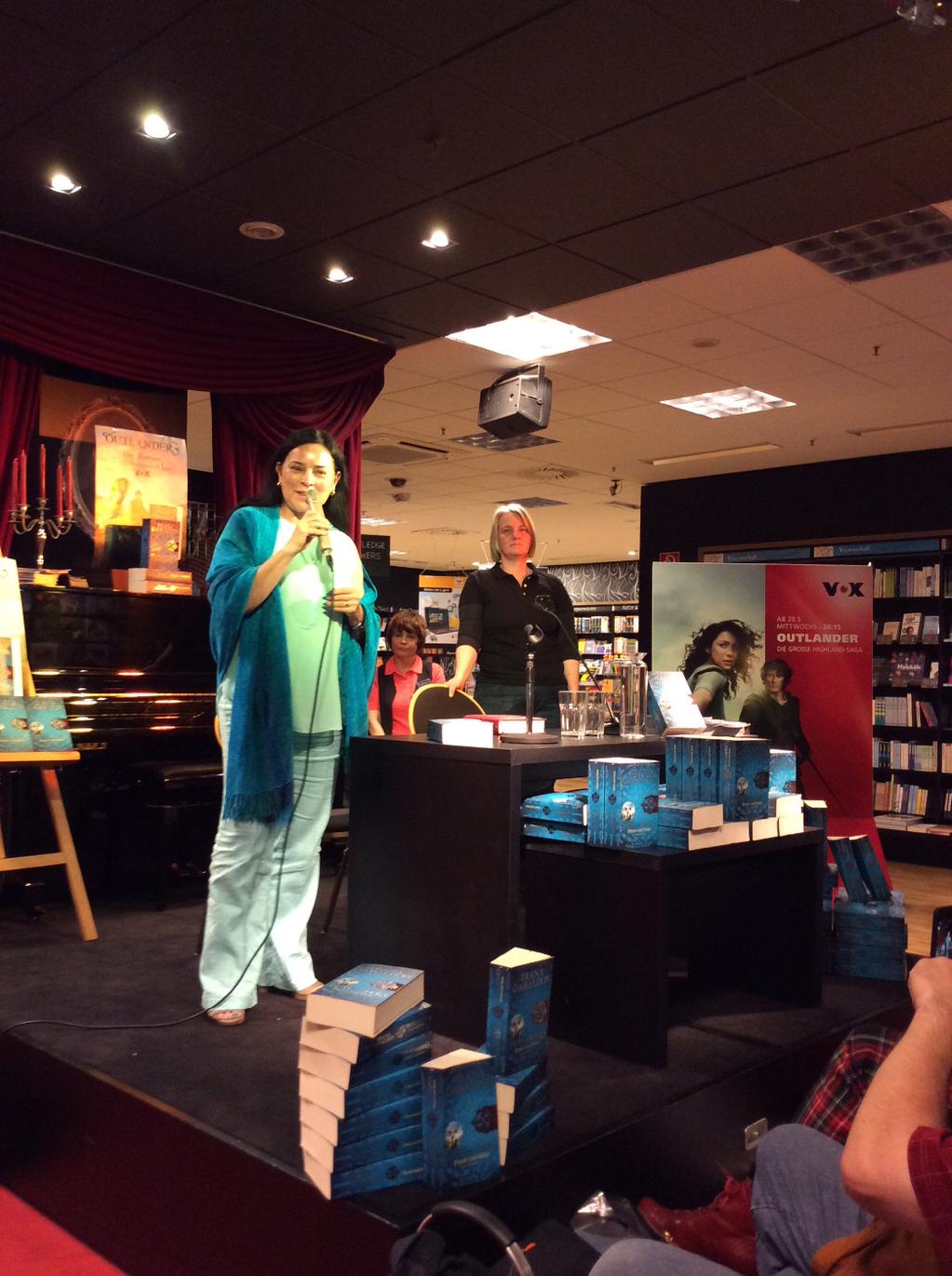 Danach beant­wortete sie noch einige Fra­gen, bevor es an das sig­nieren ging. Die Warteschlange war sehr lang, aber was bedeutet schon Zeit.….Endlich war ich an der Rei­he. Damit nicht jed­er Name buch­sta­biert wer­den musste, war eine nette Assis­tentin vor Ort, welche die Namen erfragte und auf einen Zettel schrieb.
Then she answered a few more ques­tions before going to sign. The queue was very long, but time was of no sig­nif­i­cance .….Final­ly it was my turn. Thus not every name had to be spelled out, there was a assis­tant on her site, which asked for the name and wrote a note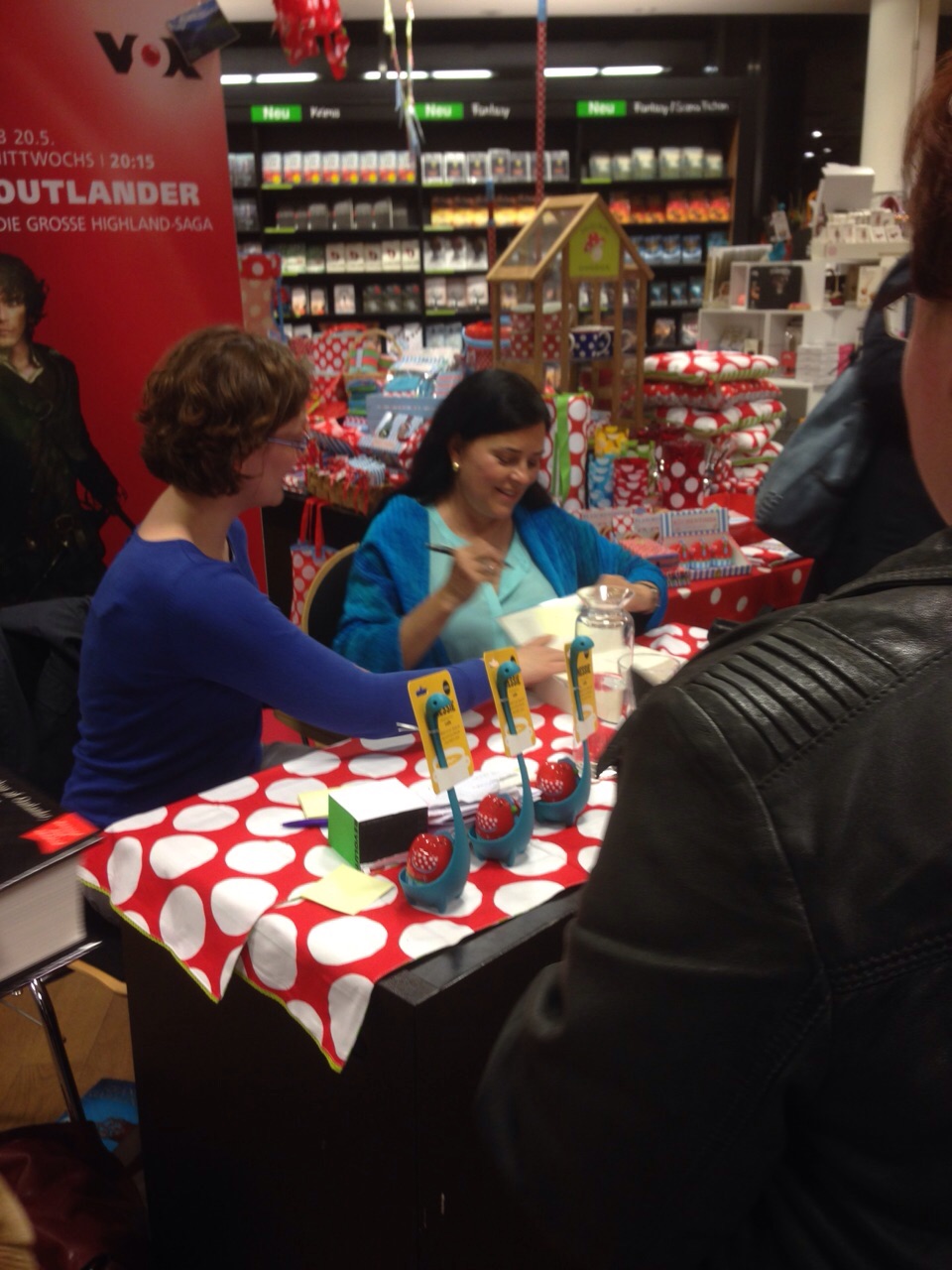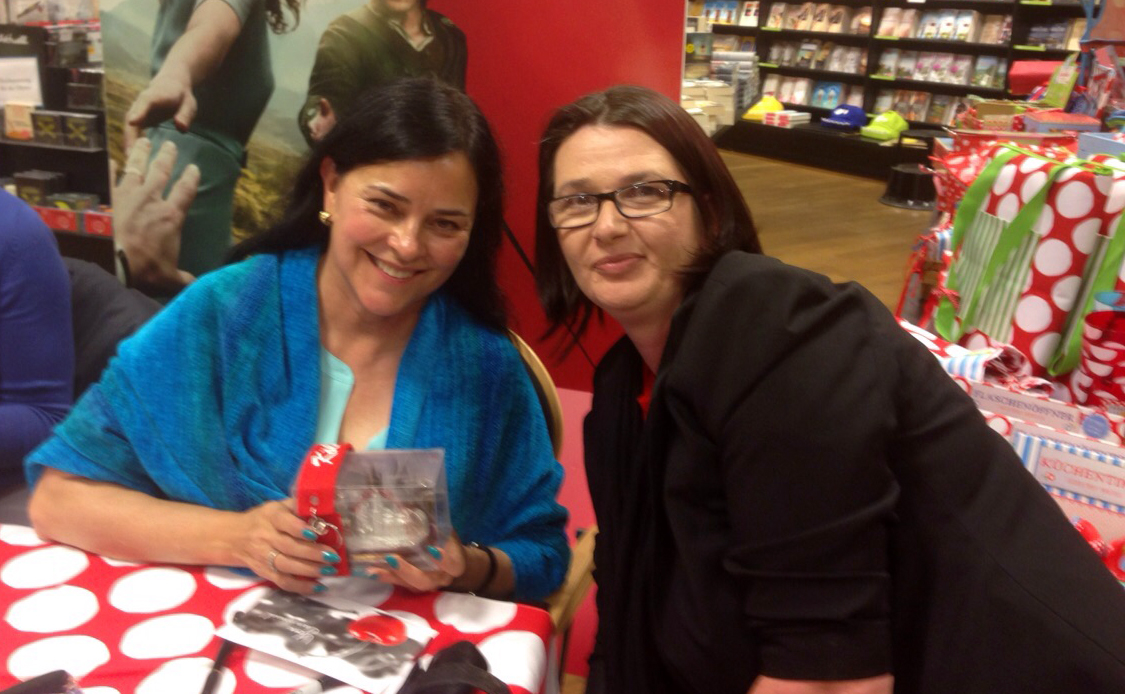 (why i always look like that on Pics?/ warum sehe ich nur immer so auf Bildern aus ?)


Ich hat­te zuvor in Köln noch ein kleines Geschenk besorgt. Die kleine Miniatur stellt die Sky­line von Köln dar. Wichtiger waren für mich jedoch die bei­den Zeilen, die ich auf die Karte geschrieben habe, denn ich wußte schon vorher, dass ich diese auf eng­lish nicht Diana per­sön­lich sagen konnte.Aber ich wollte sie wis­sen lassen, was mir ihre Büch­er bedeuten und das habe ich getan. Was ich auf die Karte geschrieben habe ? Da es sehr per­sön­lich war, wird es auf ewig mein Geheim­nis bleiben. Diana hat sich bedankt (auch wenn ich das nicht wirk­lich gehört habe, weil ich damit beschäftigt war auf meine Schuhe zu star­ren- blöde Nervösität). Meine beste Fre­undin hat zum Glück Fotos gemacht, denn ich habe auch das vergessen. Geduldig wur­den dann von ihr meine Bilder und mein Buch signiert.
I had pre­vi­ous­ly shopped a lit­tle present in Cologne. The Minia­ture rep­re­sents the sky­line of Cologne. More impor­tant was for me the two lines that I wrote on the card because I knew that I nev­er could have say this to Diana in eng­lish personally.But I want­ed to let her know what her Books mean to me. What I have writ­ten on the card? Since it was very per­son­al, it will remain for­ev­er my secret. Diana said some­thing like "very kind..thank you.. (although I did not real­ly heared it because I was busy star­ring on my shoes- stu­pid ner­vous­ness). My best friend has for­tu­nate­ly made some pho­tos, because I have for­got­ten it. Patient­ly she signed then some of my pic­tures and my book.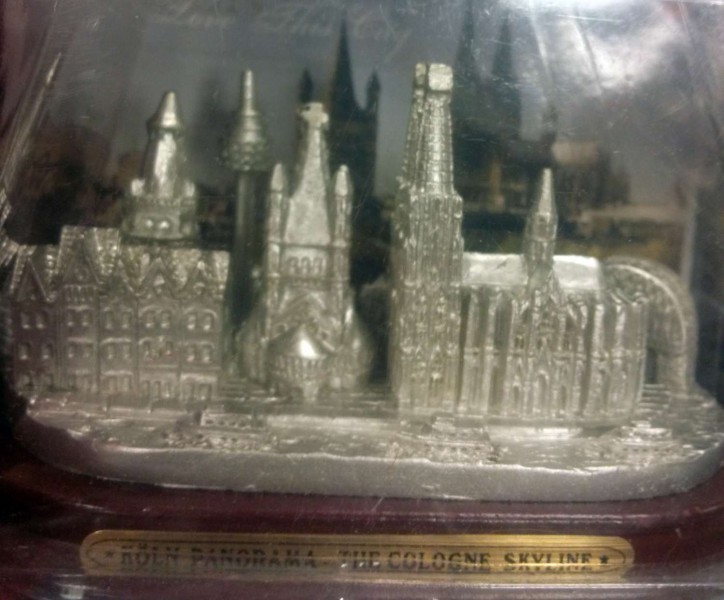 Ich schwebte nach ca. 3 Minuten davon und fahre seit dem immer wieder zärtlich über Dianas Unterschrift.
I float­ed away after about 3 min­utes and go since then repeat­ed­ly ten­der­ly over Diana's signature.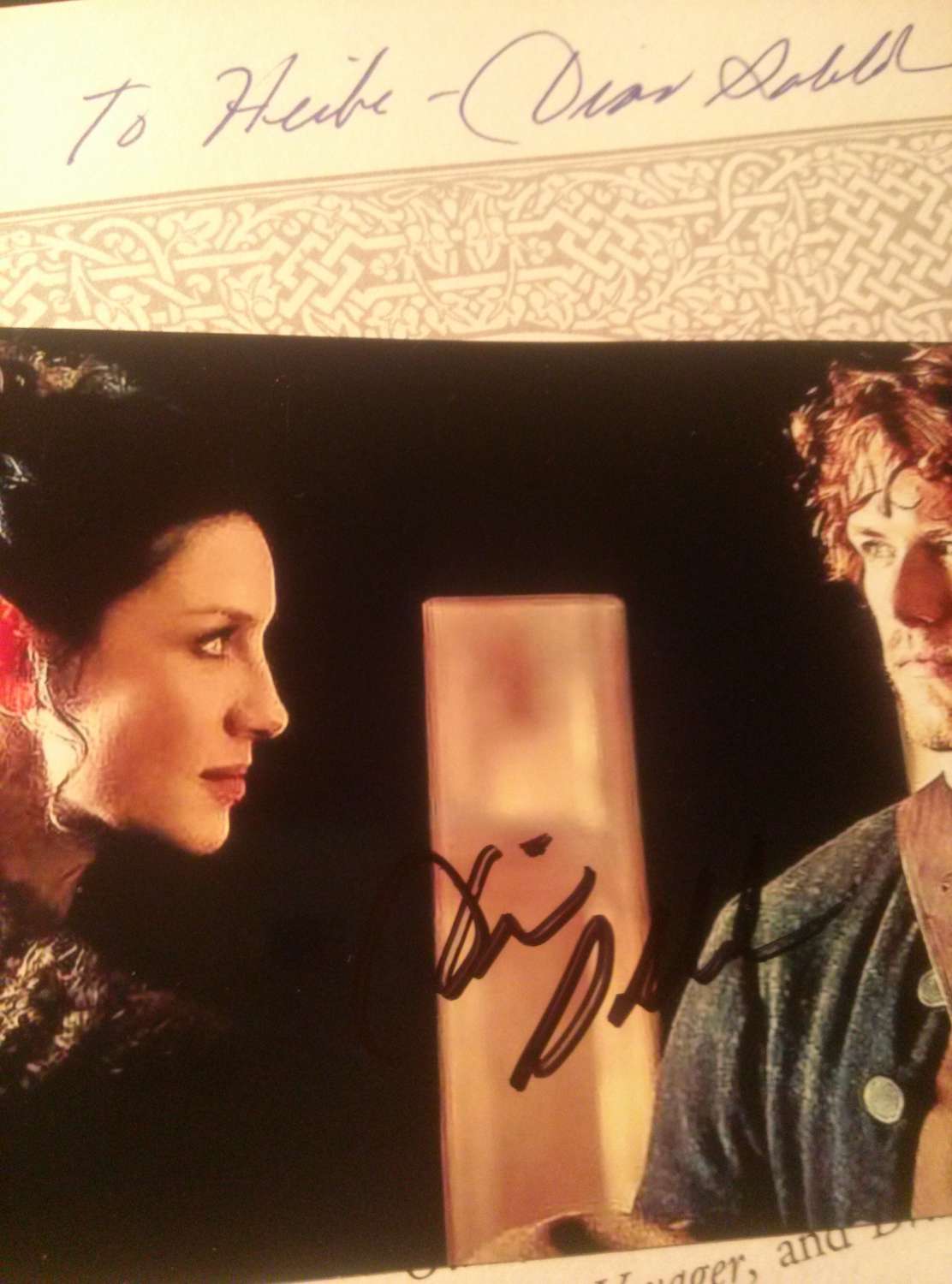 P.S.
Die drei Sätze, die ich mit ihr gesprochen habe waren übrigens:
1. Hal­lo! (sehr kreativ)
2. Ich habe ein Geschenk mit­ge­bracht, es ist die Sky­line von Köln ! (eben­so kreativ und gram­matikalisch sehr peinlich)
3. Darf ich ein Foto machen ! ( Glanzleistung)
The three sen­tences that I have spo­ken to her by the way were:
1. Hel­lo! (very creative)
2. I have brought a gift, it is the sky­line of Cologne! (just as cre­ative and gram­mat­i­cal­ly very embarrassing)
3. Can I take a pic­ture! (Per­fect grammar)