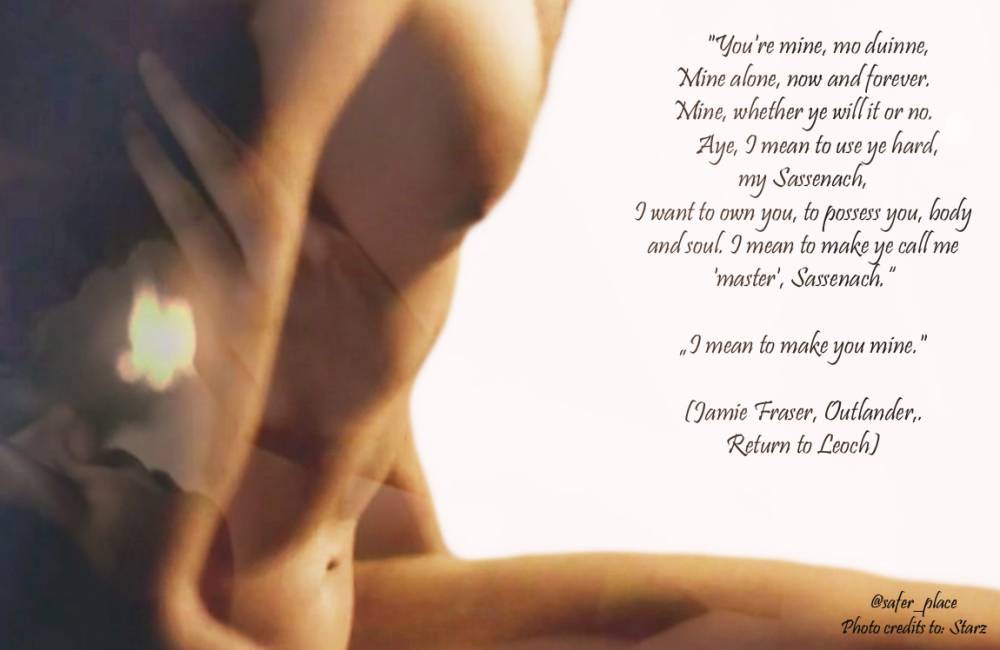 The whole Scene :
"You're mine, mo duinne," he said soft­ly, press­ing him­self into my depths. "Mine alone, now and for­ev­er. Mine, whether ye will it or no." I pulled against his grip, and sucked in my breath with a faint "ah" as he pressed even deeper.
"Aye, I mean to use ye hard, my Sasse­nach," he whis­pered. "I want to own you, to pos­sess you, body and soul." I strug­gled slight­ly and he pressed me down, ham­mer­ing me, a sol­id, inex­orable pound­ing that reached my womb with each stroke. "I mean to make ye call me 'mas­ter', Sasse­nach." His soft voice was a threat of revenge for the ago­nies of the last min­utes. "I mean to make you mine.
"Oh, aye, Sasse­nach," he answered a bit rue­ful­ly. "I am your master.…and you're mine. Seems I can­na pos­sess your soul with­out los­ing my own." He turned me on my side and curled his body around me. The room was cool­ing in the evening breeze from the win­dow, and he reached to draw a quilt over us. You're too quick by half, lad, I thought drowsi­ly to myself. Frank nev­er did find that out. I fell asleep with his arms locked hard around me and his breath­ing warm in my ear.

All rights for the Pic­ture go to the right­ful owner Starz.
Quo­te and Excerpt by Diana Gabal­don from "Outlander"
I own not­hing but the editing