The Prayer of Jamie from Episode 11
The Orig­i­nal Prayer:
DHE, teas­ruig an tigh, an teine, 's an tan,
Gach aon ta gab­hail tamh an seo an nochd.
Teas­ruig mi fein 's mo chroilean graidh,
Is glei­dh sinn bho lamh 's bho lochd;
Glei­dh sinn bho namh an nochd,
Air sgath Mhic Mhuire Mhathar
'S an ait‑s 's gach ait a bheil an tamh an nochd,
Air an oid­hche nochd 's gach aon oidhche,
An oid­hche nochd 's gach aon oidhche.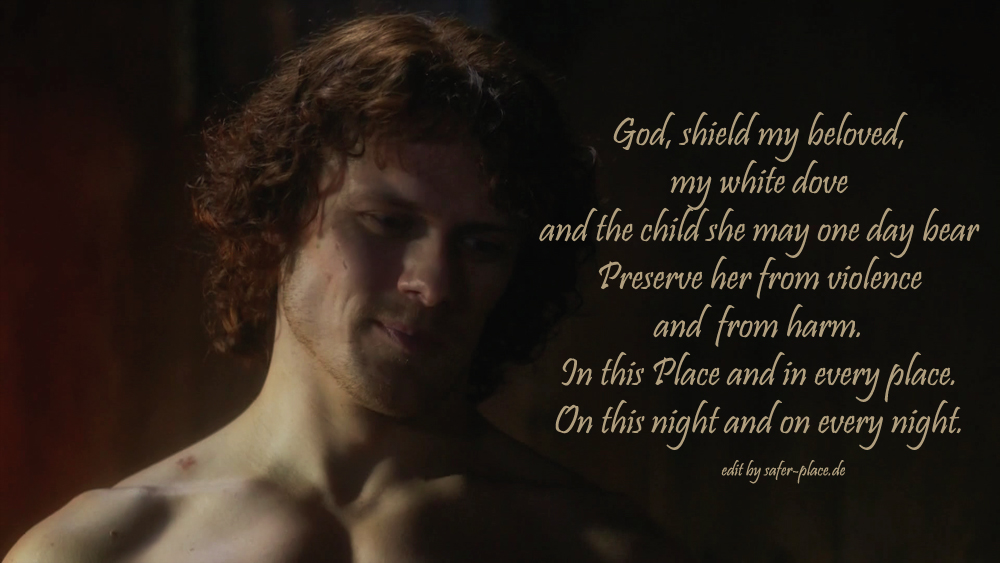 GOD shield the house, the fire, the kine,
Every one who dwells here­in to-night.
Shield myself and my beloved group,
Pre­serve us from vio­lence and from harm;
Pre­serve us from foes this night,
For the sake of the Son of the Mary Mother,
In this place, and in every place where­in they dwell to-night,
On this night and on every night,
This night and every night.
All rights for the Pic­ture go to the right­ful owner Starz
I own not­hing but the editing
Source of the Orig­i­nal Prayer here