Jamie had come to stand beside me at the win­dow. Star­ing absent­ly out at the dri­ving rain, he said, "There was anoth­er rea­son. The main one."
"Rea­son?" I said stupidly.
"Why I mar­ried you."
"Which was?" I don't know what I expect­ed him to say, per­haps some fur­ther rev­e­la­tion of his family's con­tort­ed affairs. What he did say was more of a shock, in its way.
"Because I want­ed you." He turned from the win­dow to face me. "More than I ever want­ed any­thing in my life," he added softly.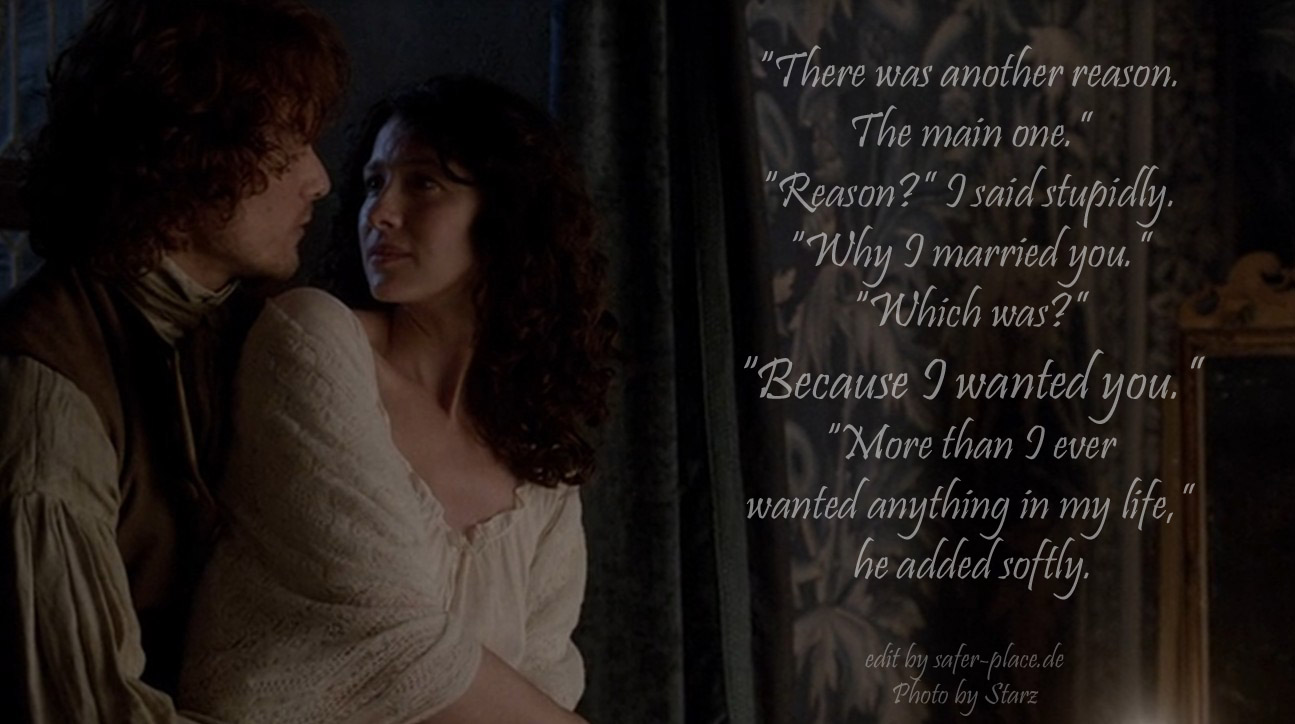 I con­tin­ued star­ing at him, dumb­struck. What­ev­er I had been expect­ing, it wasn't this. See­ing my open­mouthed expres­sion, he con­tin­ued light­ly. "When I asked my Da how ye knew which was the right woman, he told me when the time came, I'd have no doubt. And I didn't. When I woke in the dark under that tree on the road to Leoch, with you sit­ting on my chest, curs­ing me for bleed­ing to death, I said to myself, 'Jamie Fras­er, for all ye can­na see what she looks like, and for all she weighs as much as a good draft horse, this is the woman.' "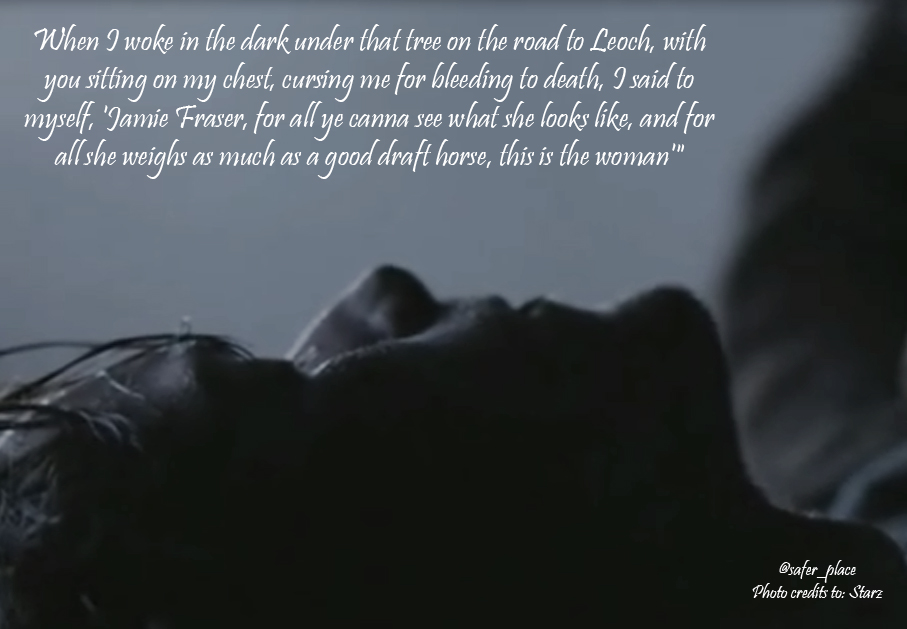 I start­ed toward him, and he backed away, talk­ing rapid­ly. "I said to myself, 'She's mend­ed ye twice in as many hours, me lad; life amongst the MacKen­zies being what it is, it might be as well to wed a woman as can stanch a wound and set bro­ken bones.' And I said to myself, 'Jamie, lad, if her touch feels so bon­ny on your col­lar­bone, imag­ine what it might feel like low­er down…' "
He dodged around a chair. "Of course, I thought it might ha' just been the effects of spend­ing four months in a monastery, with­out ben­e­fit of female com­pan­ion­ship, but then that ride through the dark together"—he paused to sigh the­atri­cal­ly, neat­ly evad­ing my grab at his sleeve—"with that love­ly broad arse wedged between my thighs"—he ducked a blow aimed at his left ear and side­stepped, get­ting a low table between us—"and that rock-sol­id head thump­ing me in the chest"—a small met­al orna­ment bounced off his own head and went clang­ing to the floor—"I said to myself…"
"Jamie…I said…for all she's a Sasse­nach bitch…with a tongue like an adder's…with a bum like that…what does it mat­ter if she's a f‑face like a sh-sh-sheep?"
I tripped him neat­ly and land­ed on his stom­ach with both knees as he hit the floor with a crash that shook the house.
"You mean to tell me that you mar­ried me out of love?" I demand­ed. He raised his eye­brows, strug­gling to draw in breath.
"Have I not…just been…saying so?"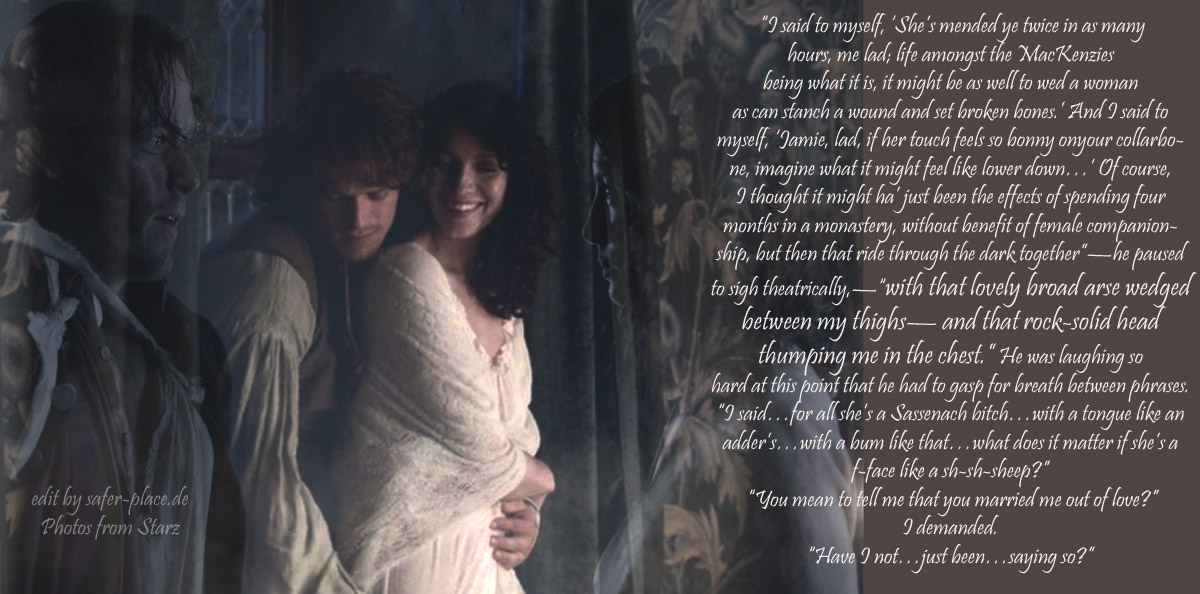 Grab­bing me round the shoul­ders with one arm, he wormed the oth­er hand under my skirt and pro­ceed­ed to inflict a series of mer­ci­less pinch­es on that part of my anato­my he had just been praising.
Return­ing to pick up her embroi­dery bas­ket, Jen­ny sailed in at this point and stood eye­ing her broth­er with some amuse­ment. "And what are you up to, young Jamie me lad?" she inquired, one eye­brow up.
"I'm makin' love to my wife," he pant­ed, breath­less between gig­gling and fighting.
"Well, ye could find a more suit­able place for it," she said, rais­ing the oth­er eye­brow. "That floor'll give ye splin­ters in your arse."
All rights for the Pic­ture go to the right­ful owner Starz
Excerpt and Quo­tes by Diana Gabal­don from "Out­lan­der"
I own not­hing but the editing