At MacRannochs House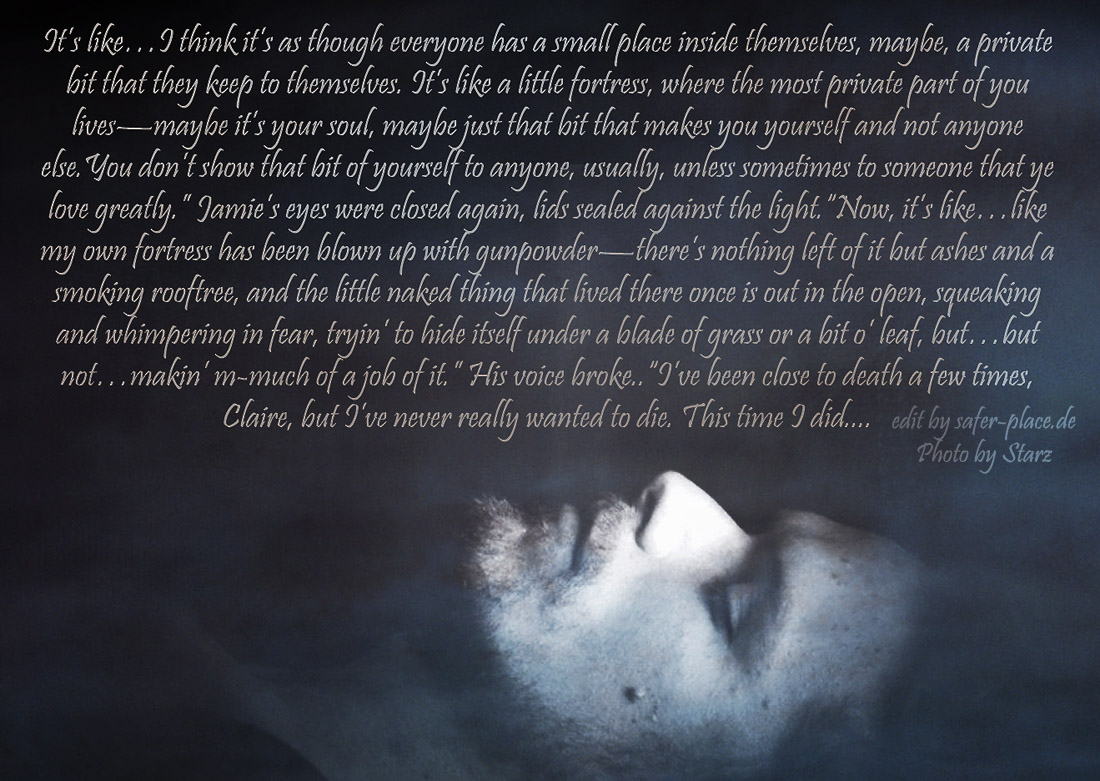 Some Time later at the Abbey.….….…
The whole Scene (i just left some Wentworth Scenes out)
Murtagh hes­i­tat­ed, as though choos­ing his words care­ful­ly. "Weel, it's just…he's decid­ed as it would be best for ye to leave him here and go back to Scot­land. He—"The rest of what he was say­ing was lost as I pushed my way rude­ly past him.
The heavy door swung shut with a soft thump behind me. Jamie was doz­ing, face­down on the bed. He was uncov­ered, clad only in a novice's short gown; the char­coal bra­zier in the cor­ner made the room com­fort­ably warm, if smoky.
He start­ed vio­lent­ly when I touched him. His eyes, still glazed with sleep, were sunk deep and his face was haunt­ed by dreams. I took his hand between both of mine, but he wrenched it away. With a look of near-despair, he shut his eyes and buried his face in the pillow.
Try­ing not to exhib­it any out­ward sign of dis­tur­bance, I qui­et­ly pulled up a stool and sat down near his head. "I won't touch you," I said, "but you must talk to me." I wait­ed for sev­er­al min­utes while he lay unmov­ing, shoul­ders hunched defen­sive­ly. At last he sighed and sat up, mov­ing slow­ly and painful­ly, swing­ing his legs over the edge of the cot. "Aye," he said flat­ly, not look­ing at me, "aye, I sup­pose I must. I should have done so before…but I was cow­ard enough to hope I need not." His voice was bit­ter and he kept his head bowed, hands clasped loose­ly around his knees. "I did­na used to think myself a cow­ard, but I am. I should have made Ran­dall kill me, but I did not. I had no rea­son to live, but I was not brave enough to die." His voice dropped, and he spoke so soft­ly I could hard­ly hear him. "And I knew I would have to see you one last time…to tell you…but…Claire, my love…oh, my love."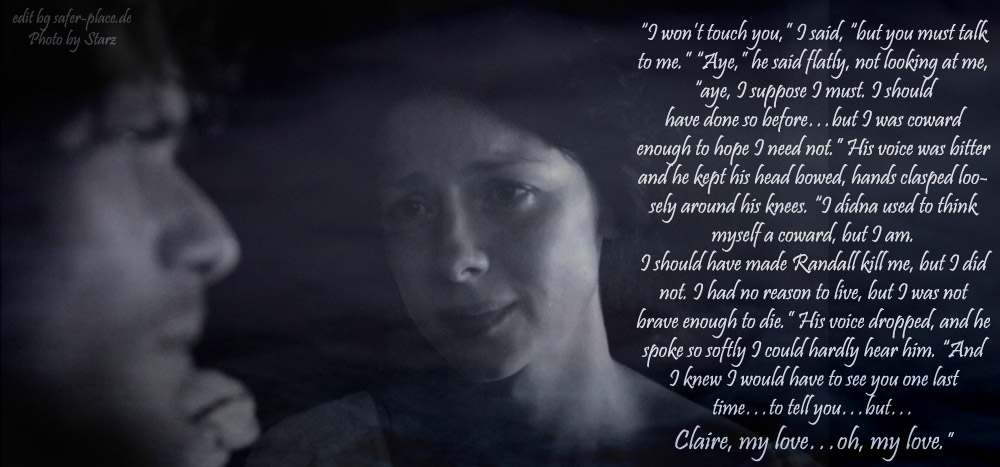 He picked up the pil­low from the bed and hugged it to him as though for pro­tec­tion, a sub­sti­tute for the com­fort he could not seek from me. He rest­ed his fore­head on it for a moment, gath­er­ing strength."When ye left me there at Went­worth, Claire," he said qui­et­ly, head still bowed, "I lis­tened to your foot­steps, going away on the flags out­side, and I said to myself, I'll think of her now. I'll remem­ber her; the feel of her skin and the scent of her hair and the touch of her mouth on mine. I'll think of her until that door opens again. And I'll think of her tomor­row, when I stand on the gal­lows, to give me courage at the last. Between the time the door opens, and the time I leave this place to die"—the big hands clenched briefly and relaxed—"I will not think at all," he fin­ished softly.…
.……I want­ed to stop Jamie, to tell him that he didn't need to go on, must not go on, but I bit my lip hard to keep from speak­ing and clasped my own hands tight togeth­er to keep from touch­ing him.…..
"Claire, I did not want to think of you. I could­na bear to be there, naked, and…like that…and to remem­ber lov­ing you. It was blas­phe­my. I meant to wipe you from my mind, and only to…exist, so long as I must. But he would not allow it." Wet­ness shone on his cheeks, but he was not cry­ing now."He talked. All dur­ing it, he talked to me. Part­ly it was threats, and part­ly it was love talk, but often it was you."
"Me?" My voice, unused for so long, came out of my strained throat as lit­tle more than a croak. He nod­ded, look­ing down at the pil­low again.
"Aye. He was most ter­ri­bly jeal­ous of you, you know.".….….….….….….….……
He shook his head slow­ly, still gaz­ing down at his feet.
"The…it's all linked for me now. I can­na think of you, Claire, even of kiss­ing you or touch­ing your hand, with­out feel­ing the fear and the pain and the sick­ness come back. I lie here feel­ing that I will die with­out your touch, but when you touch me, I feel as though I will vom­it with shame and loathing of myself. I can­na even see you now with­out…" His fore­head rest­ed on knot­ted fists, knuck­les dug hard into his eye-sock­ets. The ten­dons of his neck were sharply etched with strain, and his voice came half-muffled.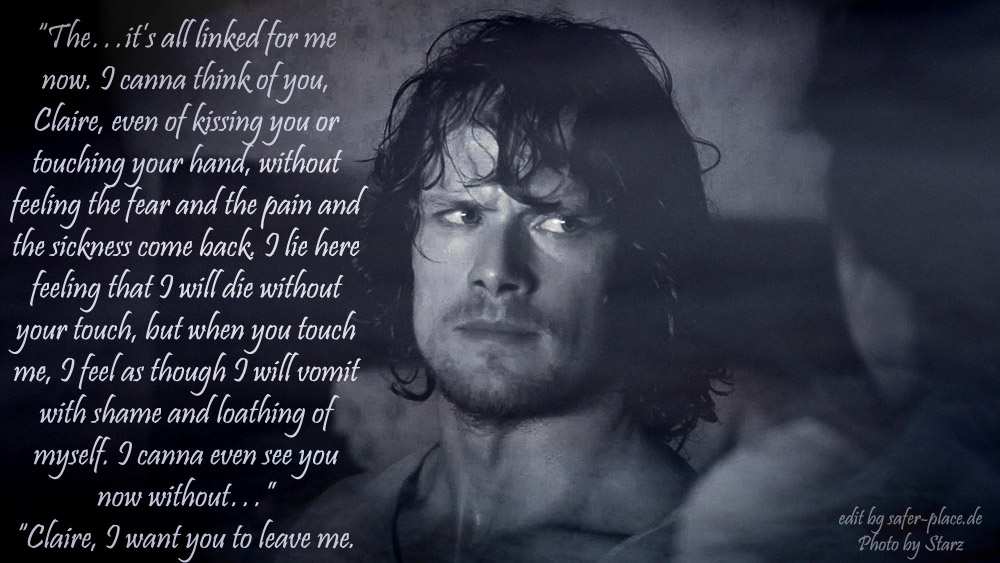 "Claire, I want you to leave me. Go back to Scot­land, to Craigh na Dun. Go back to your place, to your…husband. Murtagh will take you safe, I've told him." He was silent for a moment, and I did not move.He looked up again with des­per­ate brav­ery, and spoke very simply.
"I will love you as long as I live, but I can­not be your hus­band any longer. And I will not be less to you." His face began to break apart. "Claire, I want you so bad­ly that my bones shake in my body, but God help me, I am afraid to touch you!"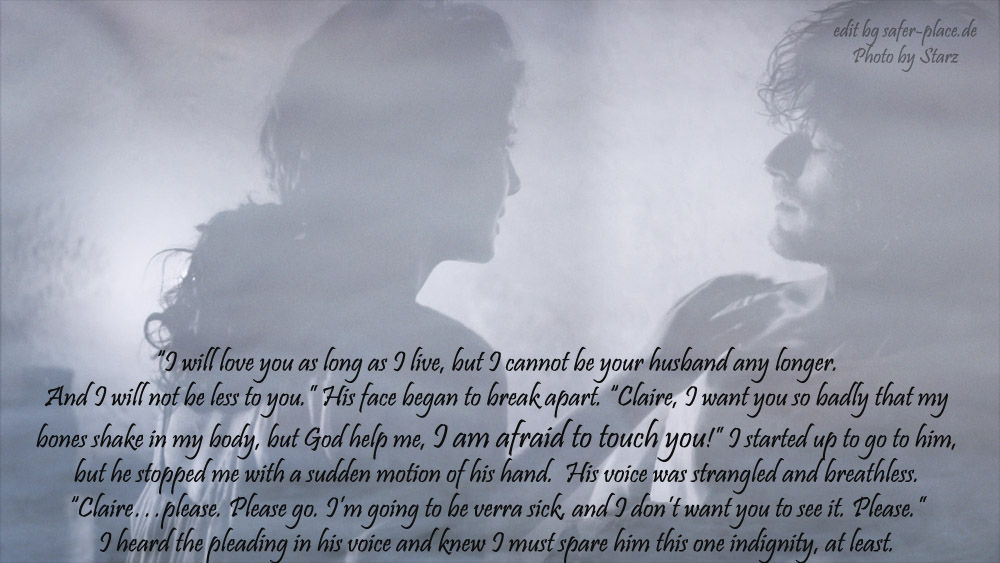 I start­ed up to go to him, but he stopped me with a sud­den motion of his hand. He was half dou­bled up, face con­tort­ed with inter­nal strug­gle, and his voice was stran­gled and breathless.
"Claire…please. Please go. I'm going to be ver­ra sick, and I don't want you to see it. Please."I heard the plead­ing in his voice and knew I must spare him this one indig­ni­ty, at least. I rose, and for the first time in my pro­fes­sion­al life, left a sick man to his own devices, help­less and alone.
All rights for the Pic­ture go to the right­ful owner Starz
Excer­pts and Quo­te by Diana Gabal­don from "Out­lan­der"
I own not­hing but the editing