The whole Scene:
I pulled him down to sit beside me on the cot, and pulled out of my pock­et the small rec­tan­gu­lar pack­age I had done up with such care in Boston. I undid its water­proof wrap­ping, and thrust its con­tents into his hands. "There," I said.
He took them from me, gin­ger­ly, like one han­dling an unknown and pos­si­bly dan­ger­ous sub­stance. His big hands framed the pho­tographs for a moment, hold­ing them con­fined. Brianna's round new­born face was obliv­i­ous between his fin­gers, tiny fists curled on her blan­ket, slant­ed eyes closed in the new exhaus­tion of exis­tence, her small mouth slight­ly open in sleep.
I looked up at his face; it was absolute­ly blank with shock. He held the pic­tures close to his chest, unmov­ing, wide-eyed and star­ing as though he had just been trans­fixed by a cross­bow bolt through the heart—as I sup­posed he had."Your daugh­ter sent you this," I said. I turned his blank face toward me and gen­tly kissed him on the mouth. That broke the trance; he blinked and his face came to life again.
"My…she…" His voice was hoarse with shock. "Daugh­ter. My daugh­ter. She…knows?"
"She does. Look at the rest." I slid the first pic­ture from his grasp, reveal­ing the snap­shot of Bri­an­na, uproar­i­ous­ly fes­tooned with the icing of her first birth­day cake, a four-toothed smile of fiendish tri­umph on her face as she waved a new plush rab­bit overhead.
Jamie made a small inar­tic­u­late sound, and his fin­gers loos­ened. I took the small stack of pho­tographs from him and gave them back, one at a time.
Bri­an­na at two, stub­by in her snow­suit, cheeks round and flushed as apples, feath­ery hair wisp­ing from under her hood.Bree at four, hair a smooth bell-shaped gleam as she sat, one ankle propped on the oppo­site knee as she smiled for the pho­tog­ra­ph­er, prop­er and poised in a white pinafore.
At five, in proud pos­ses­sion of her first lunch­box, wait­ing to board the school bus to kindergarten.
"She wouldn't let me go with her; she want­ed to go alone. She's very b‑brave, not afraid of any­thing…" I felt half-choked as I explained, dis­played, point­ed to the chang­ing images that fell from his hands and slid down to the floor as he began to snatch each new picture.
"Oh, God!" he said, at the pic­ture of Bree at ten, sit­ting on the kitchen floor with her arms around Smoky, the big New­found­land. That one was in col­or; her hair a bril­liant shim­mer against the dog's shiny black coat.His hands were shak­ing so bad­ly that he couldn't hold the pic­tures any­more; I had to show him the last few—Bree full-grown, laugh­ing at a string of fish she'd caught; stand­ing at a win­dow in secre­tive con­tem­pla­tion; red-faced and tou­sled, lean­ing on the han­dle of the ax she had been using to split kin­dling. These showed her face in all the moods I could cap­ture, always that face, long-nosed and wide-mouthed, with those high, broad, flat Viking cheek­bones and slant­ed eyes—a fin­er-boned, more del­i­cate ver­sion of her father's, of the man who sat on the cot beside me, mouth work­ing word­less­ly, and the tears run­ning sound­less down his own cheeks.
He splayed a hand out over the pho­tographs, trem­bling fin­gers not quite touch­ing the shiny sur­faces, and then he turned and leaned toward me, slow­ly, with the improb­a­ble grace of a tall tree falling. He buried his face in my shoul­der and went very qui­et­ly and thor­ough­ly to pieces.I held him to my breast, arms tight around the broad, shak­ing shoul­ders, and my own tears fell on his hair, mak­ing small dark patch­es in the rud­dy waves. I pressed my cheek against the top of his head, and mur­mured small inco­her­ent things to him as though he were Brianna.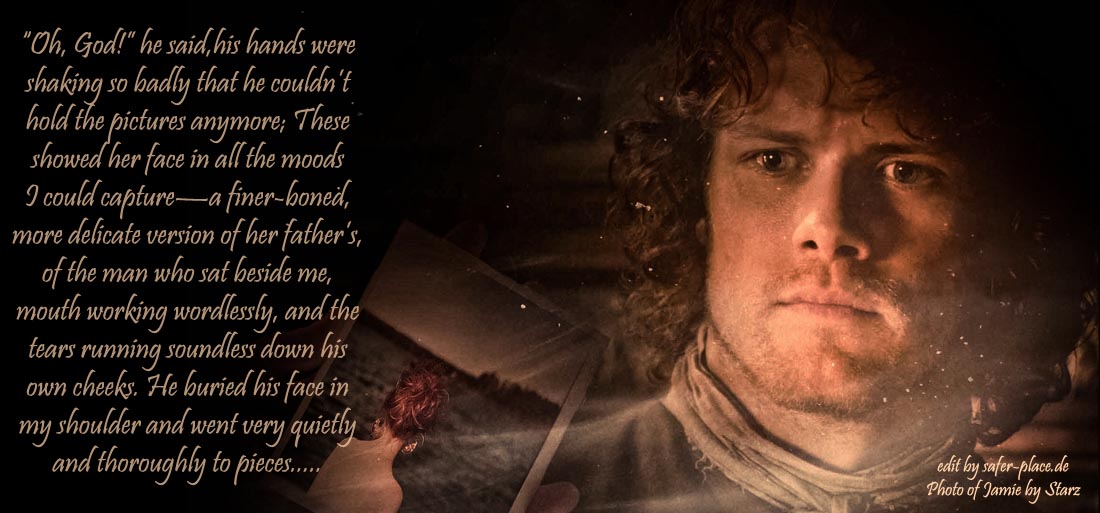 All rights for the Pic­ture of Jamie go to the right­ful owner Starz
Excer­pts and Quo­te by Diana Gabal­don from "Voyager"
I own not­hing but the editing