The whole Scene:
I knew Frank hadn't been celi­bate since my dis­ap­pear­ance. In his late for­ties, he was still lean and mus­cu­lar, dark and sleek, a very hand­some man. Women clus­tered about him at cock­tail par­ties like bees round a hon­ey­pot, emit­ting small hums of sex­u­al excitement.
There had been one girl with brown hair whom I had noticed par­tic­u­lar­ly at the depart­men­tal par­ty; she stood in the cor­ner and stared at Frank mourn­ful­ly over her drink. Lat­er she became tear­ful­ly and inco­her­ent­ly drunk, and was escort­ed home by two female friends, who took turns cast­ing evil looks at Frank and at me, stand­ing by his side, silent­ly bulging in my flow­ered mater­ni­ty dress.
He'd been dis­creet, though. He was always home at night, and took pains not to have lip­stick on his col­lar. So, now he meant to come home all the way. I sup­posed he had some right to expect it; was that not a wife­ly duty, and I once more his wife?
There was only one small prob­lem. It wasn't Frank I reached for, deep in the night, wak­ing out of sleep. It wasn't his smooth, lithe body that walked my dreams and roused me, so that I came awake moist and gasp­ing, my heart pound­ing from the half-remem­bered touch. But I would nev­er touch that man again."Jamie," I whis­pered, "Oh, Jamie." My tears sparkled in the morn­ing light, adorn­ing Brianna's soft red fuzz like scat­tered pearls and diamonds.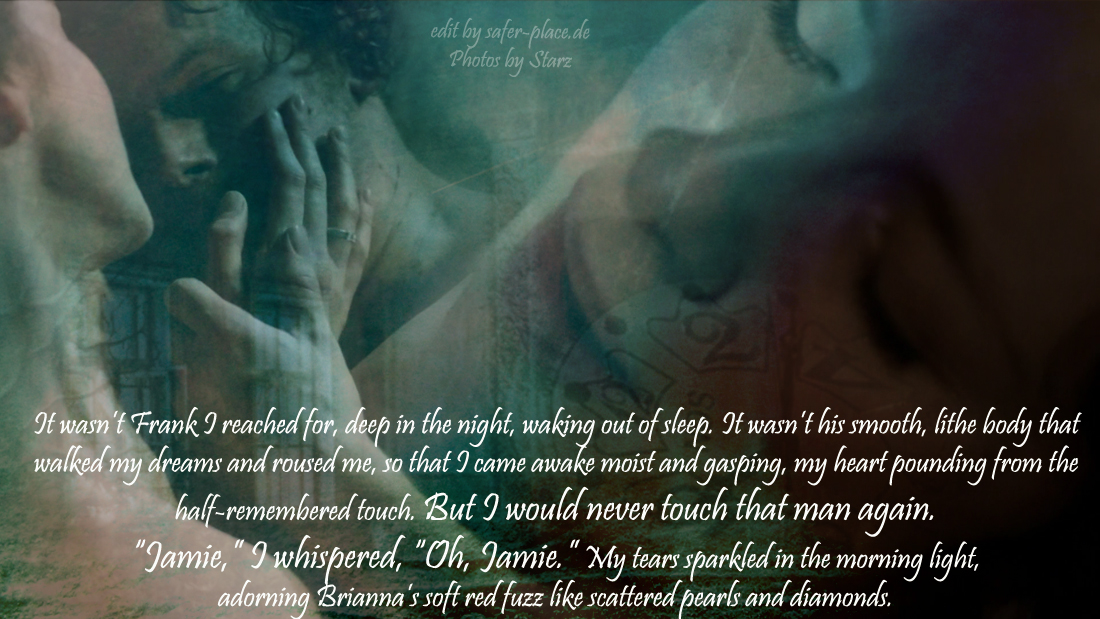 Both suf­fer so much dur­ing their sep­a­ra­tion..Jamies Pain
All rights for the Pic­ture of Jamie go to the right­ful owner Starz
Excer­pts and Quo­te by Diana Gabal­don from "Voya­ger"
I own not­hing but the editing