This is Part I from this Pas­sage, Part II is "Nei­ther of us whole again"
The whole Scene:
"What d'ye think of this place, Sasse­nach?" he asked."I think it's beau­ti­ful. Don't you?"He nod­ded, look­ing down between the trees, where a gen­tle slope full of wild hay and tim­o­thy fell away and rose again in a line of wil­lows that fringed the dis­tant river."I am think­ing," Jamie said, a lit­tle awk­ward­ly. "There is the spring here in the wood. That mead­ow below—" He waved a hand toward the scrim of alders that screened the ridge from the grassy slope. "It would do for a few beasts at first, and then the land near­er the riv­er might be cleared and put in crops. The rise of the land here is good for drainage. And here, see…" Caught by visions, he rose to his feet, pointing.I looked care­ful­ly; to me, the place seemed lit­tle dif­fer­ent from any of the steep wood­ed slopes and grassy coves through which we had wan­dered for the last cou­ple of days. But to Jamie, with his farmer's eye, hous­es and stock pens and fields sprang up like fairy mush­rooms in the shad­ows of the trees.Happiness was stick­ing out all over him, like por­cu­pine quills. My heart felt like lead in my chest."You're think­ing we might set­tle here, then? Take the Governor's offer?"He looked at me, stop­ping abrupt­ly in his speculations."We might," he said. "If—"He broke off and looked side­ways at me. Sun-red­dened as he was, I couldn't tell whether he was flushed with sun or shyness."D'ye believe in signs at all, Sassenach?""What sorts of signs?" I asked guardedly.In answer, he bent, plucked a sprig from the ground, and dropped it into my hand—the dark green leaves like small round Chi­nese fans, a pure white flower on a slen­der stem, and on anoth­er a half-ripe berry, its shoul­ders pale with shade, blush­ing crim­son at the tip."This. It's ours, d'ye see?" he said."Ours?""The Frasers', I mean," he explained. One large, blunt fin­ger gen­tly prod­ded the berry. "Straw­ber­ries ha' always been the emblem of the clan—it's what the name meant, to start with, when a Mon­sieur Fréselière came across from France wi' King William that was—and took hold of land in the Scot­tish moun­tains for his trouble."King William that was. William the Con­queror, that was. Per­haps not the old­est of the High­land clans, the Frasers had still a dis­tin­guished heritage."Warriors from the start, were you?""And farm­ers, too." The doubt in his eyes was fad­ing into a smile.I didn't say what I was think­ing, but I knew well enough that the thought must lie in his mind as well. There was no more of clan Fras­er save scat­tered frag­ments, those who had sur­vived by flight, by strat­a­gem or luck. The clans had been smashed at Cul­lo­den, their chief­tains slaugh­tered in bat­tle or mur­dered by law.Yet here he stood, tall and straight in his plaid, the dark steel of a High­land dirk by his side. War­rior and farmer both. And if the soil beneath his feet was not that of Scot­land, it was free air that he breathed—and a moun­tain wind that stirred his hair, lift­ing cop­per strands to the sum­mer sun.I smiled up at him, fight­ing back my grow­ing dismay."Fréselière, eh? Mr. Straw­ber­ry? He grew them, did he, or was he only fond of eat­ing them?""Either or both," he said dry­ly, "or it was maybe only that he was red­hei­d­ed, aye?"I laughed, and he hun­kered down beside me, unpin­ning his plaid."It's a rare plant," he said, touch­ing the sprig in my open hand. "Flow­ers, fruit and leaves all togeth­er at the one time. The white flow­ers are for hon­or, and red fruit for courage—and the green leaves are for constancy."My throat felt tight as I looked at him."They got that one right," I said.He caught my hand in his own, squeez­ing my fin­gers around the tiny stem."And the fruit is the shape of a heart," he said soft­ly, and bent to kiss me.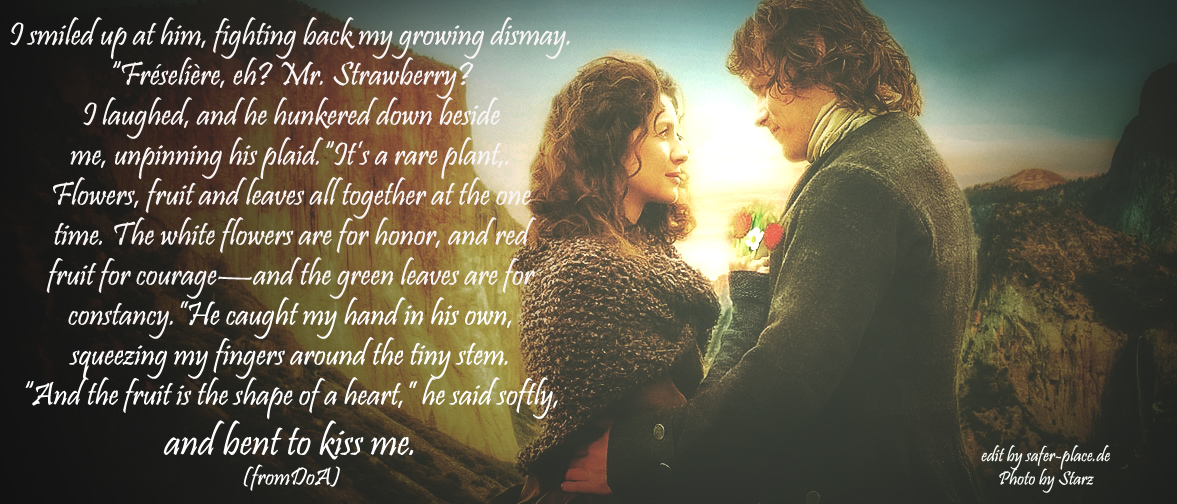 The tears were near the sur­face; at least I had a good excuse for the one that oozed free. He dabbed it away, then stood up and pulled his belt loose, let­ting the plaid fall in folds around his feet. Then he stripped off shirt and breeks and smiled down at me, naked."There's no one here," he said. "No one but us."I would have said this seemed no rea­son, but I felt what it was he meant. We had been for days sur­round­ed by vast­ness and threat, the wilder­ness no far­ther away than the pale cir­cle of our fire. Yet here, we were alone togeth­er, part and par­cel of the place, with no need in broad day­light to hold the wilder­ness at bay."In the old days, men would do this, to give fer­til­i­ty to the fields," he said, giv­ing me a hand to rise."I don't see any fields." And wasn't sure whether to hope I nev­er would. Nonethe­less, I skimmed off my buck­skin shirt, and pulled loose the knot of my makeshift brassiere. He eyed me with appreciation."Well, no doubt I shall have to cut down a few trees first, but that can wait, aye?"We made a bed of plaid and cloaks, and lay down upon it naked, skin to skin among the yel­low grass­es and the scent of bal­sam and wild strawberries.We touched each oth­er for what might have been a very long time or no time at all, togeth­er in the gar­den of earth­ly delight. I forced away the thoughts that had plagued me up the moun­tain, deter­mined only to share his joy for as long as it last­ed. I grasped him tight and he breathed in deep and pressed him­self hard into my hand."And what would Eden be with­out a ser­pent?" I mur­mured, fin­gers stroking.His eyes creased into blue tri­an­gles, so close I could see the black of his pupils."And will ye eat wi' me, then, mo chrid­he? Of the fruit of the tree of the knowl­edge of Good and Evil?"I put out the tip of my tongue and drew it along his low­er lip in answer. He shiv­ered under my fin­gers, though the air was warm and sweet."Je suis prest," I said. "Mon­sieur Fréselière."His head bent and his mouth fas­tened on my nip­ple, swollen as one of the tiny ripe berries."Madame Fréselière," he whis­pered back. "Je suis à votre service."And then we shared the fruit and flow­ers, and the green leaves cov­er­ing all.
All rights for the Pic­tures of Jamie and Claire go to the right­ful owner Starz
Excer­pt and Quo­te by Diana Gabal­don from "DoA"
I own not­hing but the editing