the whole scene:
I sat in the Visitor's chair in Jamie's study, com­pan­ion­ably grat­ing blood­roots while he wres­tled with the quar­ter­ly accounts. Both were slow and tedious busi­ness­es, but we could share the light of a sin­gle can­dle and enjoy each other's company—and I found enjoy­able dis­trac­tion in lis­ten­ing to the high­ly inven­tive remarks he addressed to the paper under his quill.
"Egg-suck­ing son of a por­cu­pine!" he mut­tered. "Look at this, Sassenach—the man's nay more than a com­mon thief! Two shillings, three­pence for two loaves of sug­ar and a brick of indigo!"
I clicked my tongue sym­pa­thet­i­cal­ly, for­bear­ing to note that two shillings seemed a mod­est enough price for sub­stances pro­duced in the West Indies, trans­port­ed by ship to Charleston, and thence car­ried by wag­on, pirogue, horse­back, and foot anoth­er sev­er­al hun­dred miles over­land, to be final­ly brought to our door by an itin­er­ant ped­dler who did not expect pay­ment for the three or four months until his next visit—and who would in any case like­ly not get cash, but rather six pots of goose­ber­ry jam or a haunch of smoked venison.
"Look at that!" Jamie said rhetor­i­cal­ly, scratch­ing his way down a col­umn of fig­ures and arriv­ing with a vicious stab at the bot­tom. "A cask of brandy­wine at twelve shillings, two bolts of muslin at three and ten each, ironmongery—what in the name of bug­gery is wee Roger want­i­ng wi' an iron­mon­ger, has he thought of a way to play tunes on a hoe?—ironmongery, ten and six!""I believe that was a ploughshare," I said pacif­i­cal­ly. "It's not ours; Roger brought it for Geordie Chisholm." Ploughshares were in fact rather expen­sive. Hav­ing to be import­ed from Eng­land, they were rare amongst colo­nial small farm­ers, many of whom made do with noth­ing more than wood­en dib­bles and spades, with an ax and per­haps an iron hoe for ground-clearing.
Jamie squint­ed bale­ful­ly at his fig­ures, rum­pling a hand through his hair.
"Aye," he said. "Only Geordie has­na got a spare pen­ny to bless him­self with, not until next year's crops are sold. So it's me that's pay­ing the ten and six now, isn't it?" With­out wait­ing for an answer, he plunged back into his cal­cu­la­tions, mut­ter­ing "Turd-eat­ing son of a fly­ing tor­toise" under his breath, with no indi­ca­tion whether this applied to Roger, Geordie, or the ploughshare.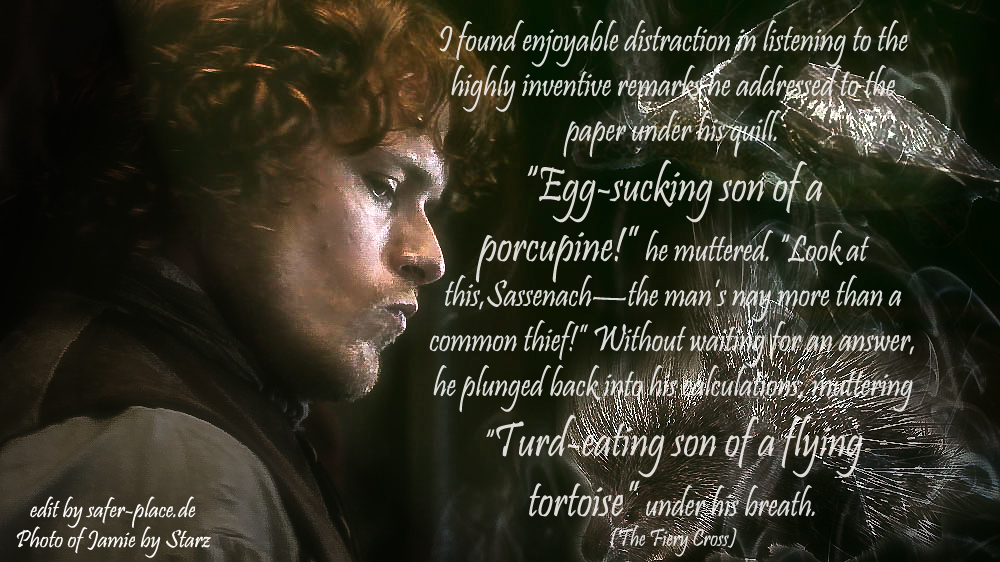 All rights for the Pic­ture of Jamie go to the right­ful own­er Starz/​Sony
Quote and Excerpt by Diana Gabal­don from "The Fiery Cross"
I own not­hing but the editing