This is Part II from the Dia­log bet­ween Jamie and Claire after the Witch Tri­al, Part I is Not marked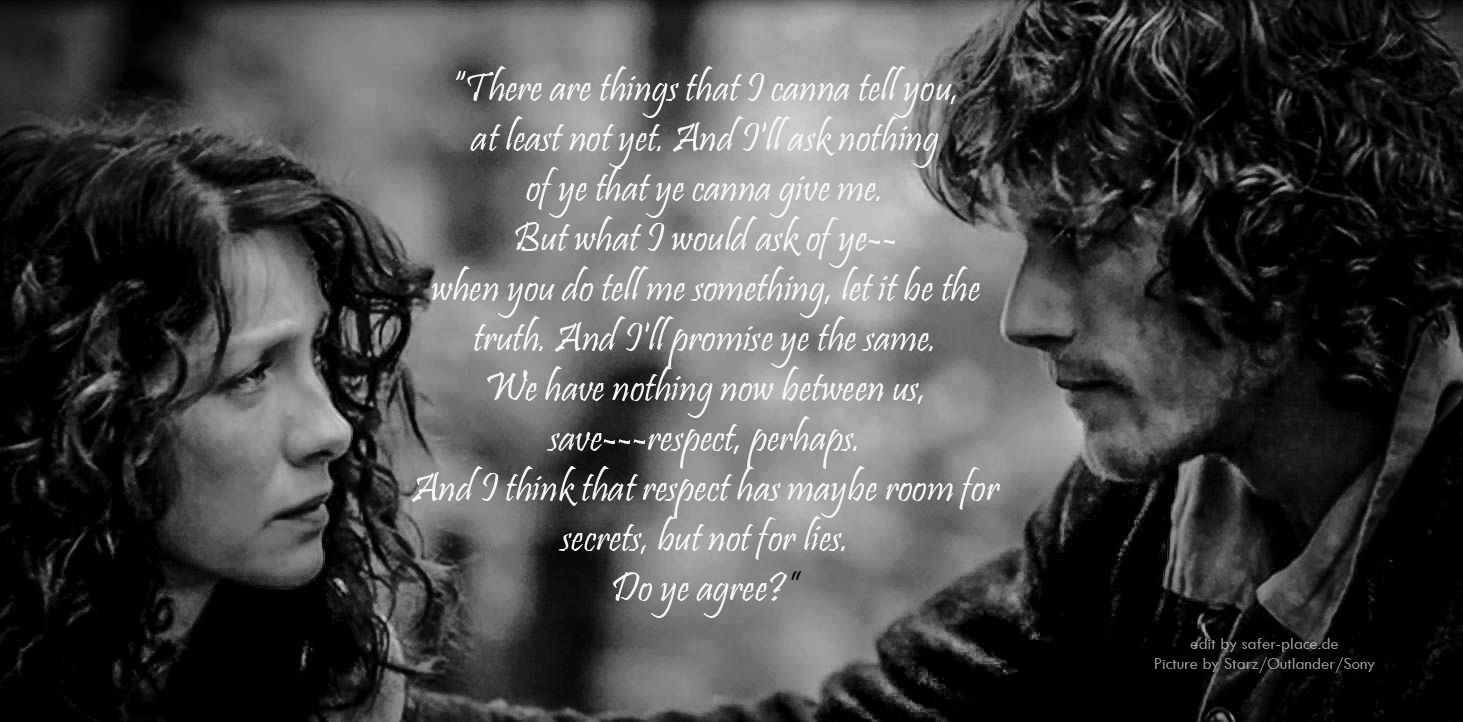 He sat star­ing into the fire for a long time. Final­ly he looked up at me, hands clasped around his knees.
"I said before that I'd not ask ye things ye had no wish to tell me. And I'd not ask ye now; but I must know, for your safe­ty as well as mine." He paused, hesitating.
"Claire, if you've nev­er been hon­est wi' me, be so now, for I must know the truth. Claire, are ye a witch?"
I gaped at him. "A witch? You—you can real­ly ask that?" I thought he must be jok­ing. He wasn't.
He took me by the shoul­ders and gripped me hard, star­ing into my eyes as though will­ing me to answer him.
"I must ask it, Claire! And you must tell me!"
"And if I were?" I asked through dry lips. "If you had thought I were a witch? Would you still have fought for me?"
"I would have gone to the stake with you!" he said vio­lent­ly. "And to hell beyond, if I must. But may the Lord Jesus have mer­cy on my soul and on yours, tell me the truth!"
I grew calm enough to look up and say, "But you can't believe me."
He smiled down at me. His mouth trem­bled slight­ly, but he smiled.
"Ye'll no tell me what I can­na do, Sasse­nach." He paused a moment. "How old are ye?" he asked curi­ous­ly. "I nev­er thought to ask."
The ques­tion seemed so pre­pos­ter­ous that it took me a minute to think.
"I'm twenty-seven…or maybe twen­ty-eight," I added. That rat­tled him for a moment. At twen­ty-eight, women in this time were usu­al­ly on the verge of middle-age.
"Oh," he said. He took a deep breath. "I thought ye were about my age—or younger."
He didn't move for a sec­ond. But then he looked down and smiled faint­ly at me. "Hap­py Birth­day, Sasse­nach," he said.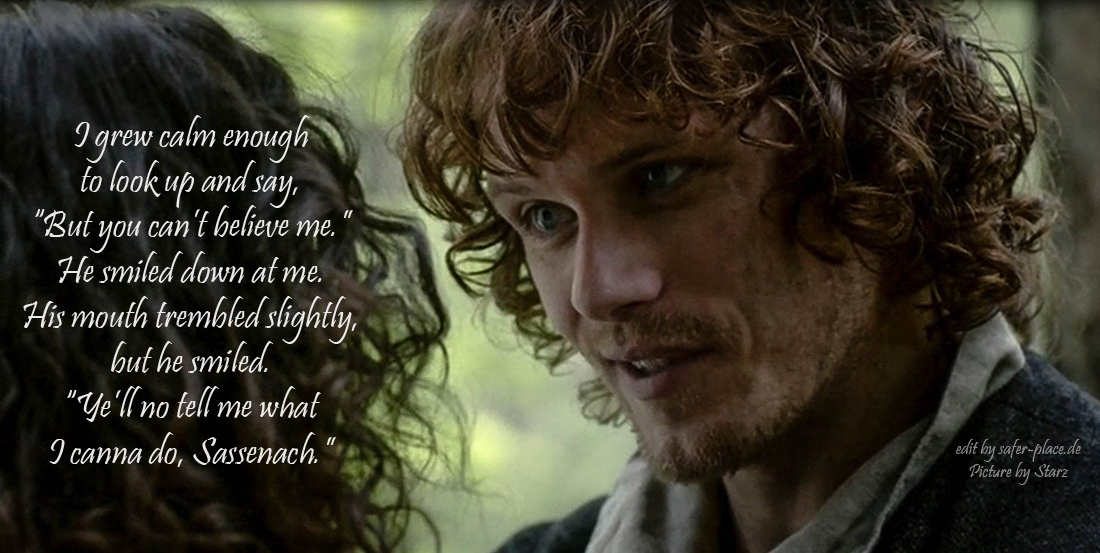 His hands on my shoul­ders raised me, enough to see his face. Through the haze of tears, I saw the look he wore in bat­tle, of strug­gle that had passed the point of strain and become calm certainty.
"I believe you," he said firm­ly. "I din­na under­stand it a bit—not yet—but I believe you. Claire, I believe you! Lis­ten to me! There's the truth between us, you and I, and what­ev­er ye tell me, I shall believe it." He gave me a gen­tle shake.
"It does­na mat­ter what it is. You've told me. That's enough for now. Be still, mo duinne. Lay your head and rest. You'll tell me the rest of it lat­er. And I'll believe you."

I was still sob­bing, unable to grasp what he was telling me. I strug­gled, try­ing to pull away, but he gath­ered me up and held me tight­ly against him­self, push­ing my head into the folds of his plaid, and repeat­ing over and over again, "I believe you."
I told him. Told him every­thing, halt­ing­ly but coher­ent­ly. I felt numb from exhaus­tion, but con­tent, like a rab­bit that has out­run a fox, and found tem­po­rary shel­ter under a log. It isn't sanc­tu­ary, but at least it is respite. And I told him about Frank.
"Frank," he said soft­ly. "Then he isna dead, after all."
"He isn't born." I felt anoth­er small wave of hys­te­ria break against my ribs, but man­aged to keep myself under con­trol. "Nei­ther am I."
He stroked and pat­ted me back into silence, mak­ing his small mur­mur­ing Gael­ic sounds.
"When I took ye from Ran­dall at Fort William," he said sud­den­ly, "you were try­ing to get back. Back to the stones. And…Frank. That's why ye left the grove."
"Yes."
"And I beat you for it." His voice was soft with regret.
"You couldn't know. I couldn't tell you." I was begin­ning to feel very drowsy indeed.
"No, I din­na sup­pose ye could."
He pulled the plaid clos­er around me, tuck­ing it gen­tly around my shoul­ders. "Do ye sleep now, mo duinne. No one shall harm ye; I'm here."
I bur­rowed into the warm curve of his shoul­der, let­ting my tired mind fall through the lay­ers of obliv­ion. I forced myself to the sur­face long enough to ask, "Do you real­ly believe me, Jamie?"
He sighed, and smiled rue­ful­ly down at me.
"Aye, I believe ye, Sasse­nach. But it would ha' been a good deal eas­i­er if you'd only been a witch."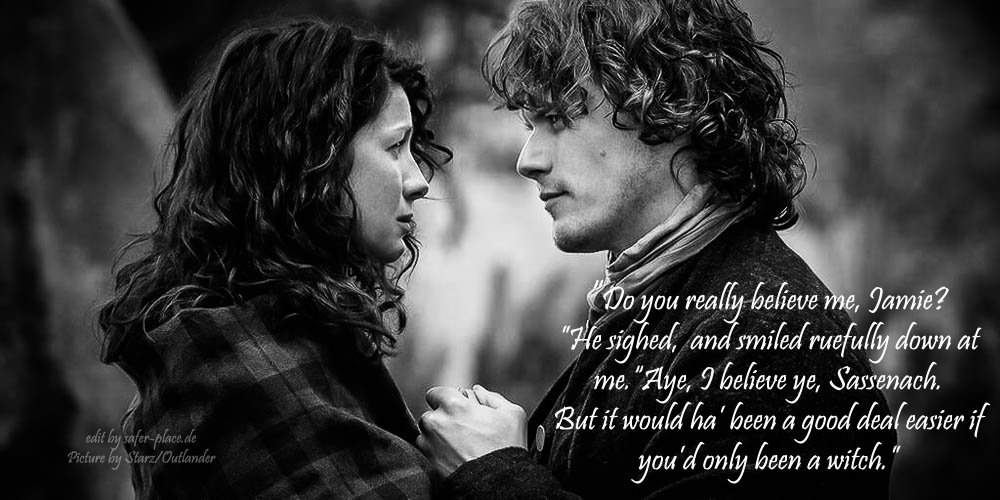 All rights for the Pic­ture go to the right­ful owner Starz
Excerpts and Quotes by Diana Gabal­don from "Out­lan­der"
I own not­hing but the editing