The whole Scene from DiA:
There was a bird singing out­side, though it was long before first light. A mock­ing­bird, prac­tic­ing his trills and runs over and over, perched on a rain gut­ter some­where in the dark nearby.
Mov­ing sleep­i­ly, Jamie rubbed his cheek against the smooth skin of my fresh­ly waxed under­arm, then turned his head and plant­ed a soft kiss in the warm hol­low that sent a small, deli­cious shud­der down my side.
"Mm," he mur­mured, run­ning a light hand over my ribs. "I like it when ye come out all goose­flesh like that, Sassenach."
"Like this?" I answered, run­ning the nails of my right hand gen­tly over the skin of his back, which oblig­ing­ly rip­pled into goose­bumps under the teas­ing of his touch.
"Ah."
"Ah, your­self, then," I answered soft­ly, doing it some more.
"Mmm­mm." With a lux­u­ri­ous groan, he rolled to the side, wrap­ping his arms around me as I fol­lowed, enjoy­ing the sud­den con­tact of every inch of our naked skins, all down the front from head to toe. He was warm as a smoth­ered fire, the heat of him safe­ly banked for the night, to kin­dle again to a blaze in the black cold of dawn.
His lips fas­tened gen­tly on one nip­ple, and I groaned myself, arch­ing slight­ly to encour­age him to take it deep­er into the warmth of his mouth. My breasts were grow­ing fuller, and more sen­si­tive by the day; my nip­ples ached and tin­gled some­times under the tight bind­ing of my gowns, want­i­ng to be suckled.
"Will ye let me do this lat­er?" he mur­mured, with a soft bite. "When the child's come, and your breasts fill wi' milk? Will ye feed me,too, then, next up to your heart?"
I clasped his head and cra­dled it, fin­gers deep in the baby-soft hair that grew thick­er at the base of his skull.
"Always," I whispered.
Some Years later..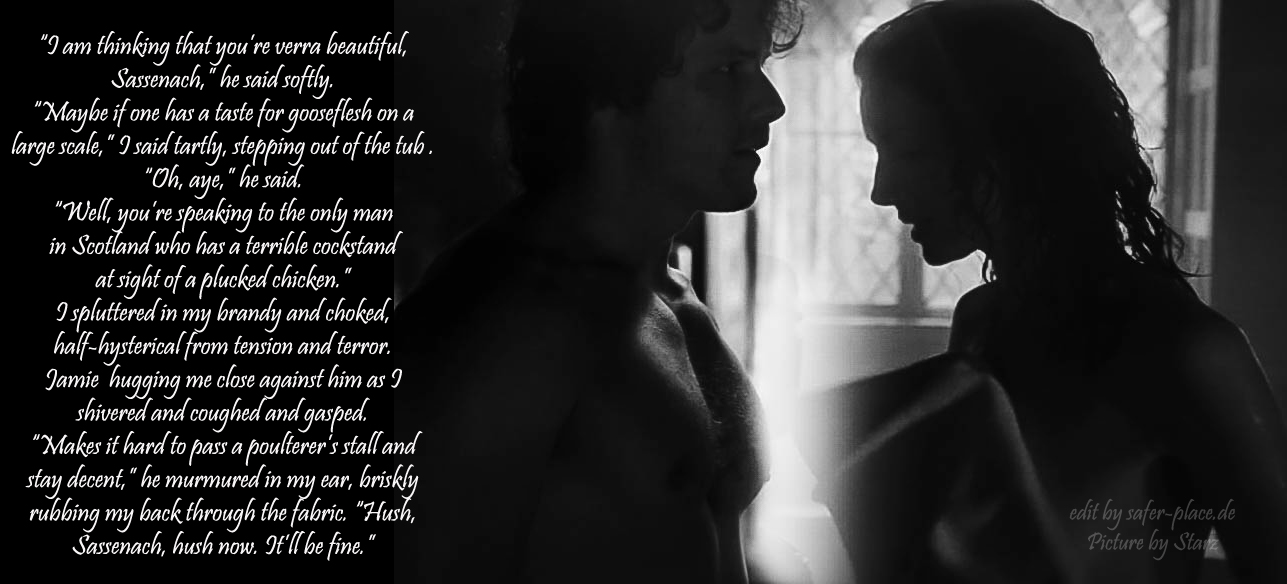 The whole Scene from Voayager
"I am think­ing that you're ver­ra beau­ti­ful, Sasse­nach," he said softly.
"Maybe if one has a taste for goose­flesh on a large scale," I said tart­ly, step­ping out of the tub and reach­ing for the cup.
He grinned sud­den­ly at me, teeth flash­ing white in the dim­ness of the cellar.
"Oh, aye," he said. "Well, you're speak­ing to the only man in Scot­land who has a ter­ri­ble cock­stand at sight of a plucked chicken."
I splut­tered in my brandy and choked, half-hys­ter­i­cal from ten­sion and terror.
Jamie quick­ly shrugged out of his coat and wrapped the gar­ment around me, hug­ging me close against him as I shiv­ered and coughed and gasped.
"Makes it hard to pass a poulterer's stall and stay decent," he mur­mured in my ear, briskly rub­bing my back through the fab­ric. "Hush, Sasse­nach, hush now. It'll be fine."
All rights for the Pic­ture go to the right­ful owner Starz
Excer­pts and Quo­tes by Diana Gabal­don from "Dragonfly in Amber"and "Voyager"!
I own not­hing but the editing